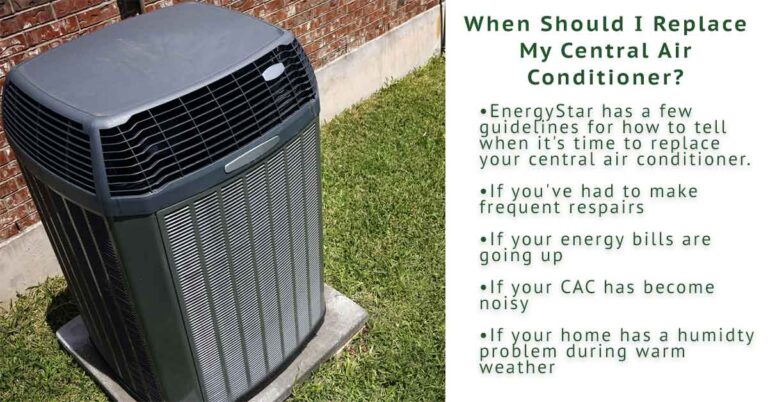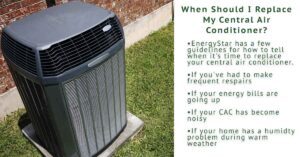 With summer fading, you might be thinking about your central air conditioner (CAC), especially if your central air was less than perfect this season. If your central AC was making noise, didn't feel as cool as usual, took longer than usual to make your house comfortable, or it's just getting older, it might be time to start thinking about replacing your central air conditioner.
How Long Do AC Units Last?
On average, a central air conditioning unit lasts 12-17 years. The longevity of your central air system depends upon a few things like:
Proper installation
Regular maintenance
Overall usage
Unit location
Sealing and insulation of ductwork
Air filter replacement or cleaning
The Importance of Regular Central AC Maintenance
Obviously, regular maintenance is useful because it keeps your central air conditioning system running well. It also allows you to spot potential problems before they cause a unit breakdown.
The more often you run your central air system, the more wear and tear it undergoes. Fortunately, here on Long Island, our climate means that a central air conditioning system won't have to run all year round, so it won't run as hard as it might in other parts of the country with hotter climates. For more professional air conditioning maintenance tips, read through our article on 9 Ways to Avoid AC Breakdown.
Replace Your Air Filter Frequently
Replacing the air filter is a part of yearly maintenance, but for an efficient, effective system, it's useful to clean or replace your filter even more frequently. A dirty filter forces you to run your central air longer and more often.
When to Replace Your Central AC
EnergyStar has a few guidelines for how to tell when it's time to replace your central air conditioner.
If you've had to make frequent repairs.
If your energy bills are going up.
If your CAC has become noisy.
If your home has a humidity problem when the weather is warm.
If your central air conditioning is more than 10 years old.
Except for the first item, any of these factors, on an individual basis, might not force a replacement. In combination, however, they're definitely warning signs that it's time to replace your central air conditioning unit – especially if combined with an uptick in repairs.
If it does look like you should replace your central air conditioning system, doing it before complete system failure is your smartest option. Not only do you save the discomfort of a summer breakdown but replacing your AC unit during the offseason means you can plan an installation at time that's most convenient for you.
Can I Replace My Central Air Unit Myself?
Trying to install your own central air unit is a very bad idea. Central air conditioning systems are very complex. Even if you're a competent DIYer, with the many electrical components involved, this increases the risk of an installation error. Even figuring out the right size unit takes experience and nuance. It's also very likely that you'll invalidate the manufacturer's warranty by installing it yourself.
Do You Need a Permit for a New HVAC System?
Yes, permits are required to ensure your AC is installed properly. This is yet another reason why it's a bad idea to try to install central air conditioning yourself. The permits usually require a licensed installer. Specifics vary according to the jurisdiction. The Town of North Hempstead is just one example, so you'll need to check your local town requirements.
Tragar Can Upgrade Your Central Air Conditioning
Now is a great time to start planning for the installation of a new central air conditioning system or upgrading your current system. Tragar can work with you today to make sure it's a seamless process. Reach out to us for more information and a free estimate.