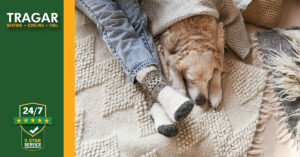 While the winters on Long Island can bring us some surprisingly warm days here and there, it's going to get pretty cold overall. We'll be finding ourselves cranking up our home heating in order to keep ourselves and our families comfortable during the colder days. And for many of us, pets like dogs and cats are a part of our family too.
One of the benefits of HVAC systems – like central heating – is that you can make your home, and different rooms within your home, a temperature that's right for you. However, what might be a comfortable temperature for you may not be for your dog or cat. Additionally, the cold and dry air can cause our skin to get dry… and it could potentially do the same to our pets. So, what do pet owners need to know about central heating?
Can A House Be Too Warm For A Dog?
Though humans and dogs are both mammals, our bodies' internal temperatures do work differently. Dogs tend to have an average internal temperature of 101.5 degrees Fahrenheit – that would be considered a moderate fever for us! Smaller dogs may run slightly colder and larger dogs may run slightly warmer.
As a result, a dog is likely to get too warm at a higher temperature than you and your family would. For a dog, they could start getting uncomfortable in the 81 to 85 degrees range in a home – a higher temperature than you're likely to set your central heating to. That said, make sure your dog is drinking plenty of water.
How Warm Does A House Need To Be For Cats?
Cats are similar to dogs in that they also have a higher internal temperature falling between 100.4 to 102.5 degrees Fahrenheit. Cats prefer warmth as dogs do, and you'd want to keep your home at 60 degrees or higher to keep your cat comfortable. Going as low as 50 degrees isn't ideal, but a cat can manage in that temperature. Particularly if the cat has access to additional sources of warmth – like blankets or sitting close to a heat source.
Can Central Heating Cause My Pets To Have Dry, Itchy Skin?
If home heating is causing you to have dry, itchy skin then it can do the same for your pets. If your dog is experiencing dry, itchy skin it's recommended you brush your dog at least once a day.
Humidifiers in the home can also help you and your pets. You should consult with HVAC professionals on how to properly manage and maintain your HVAC systems like central heating, utilizing humidifiers, and more.
Tragar Home Services Is Long Island's Trusted Name In HVAC
Our pets are part of our family, and our home HVAC systems should be working to make the whole family more comfortable. Here at Tragar Home Services, we pride ourselves in providing 5-star service for our customers and their families during and after business hours. We have the fastest emergency response time in the area at just two hours. Our highly trained professionals can evaluate your HVAC systems and perform maintenance and repairs to prepare your home for winter, and even work with you on installing a new system with a maintenance plan if necessary. Contact us today for peace of mind come winter for you and your pets.