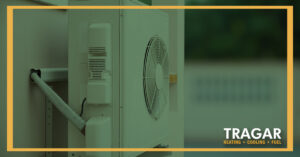 Are you shocked and dismayed every time you open your heating bill? If you're like most Long Island residents, wintertime brings month after month of ever-increasing energy costs. It's no surprise many homeowners are looking for alternative methods to heat their homes this year. One option worth considering is to install a heat pump.
What are Heat Pumps?
A heat pump is an HVAC device that heats and cools the home by circulating air between an indoor air handler unit and an outdoor compressor. Thermal energy is transferred indoors to produce heat or transferred outdoors to cool the space. Heat pumps are typically powered by electricity but use up to 50 percent less than traditional furnaces.
There are a variety of heat pumps on the market, each named for its energy source. The most common heat pumps use air or geothermal sources. The former transfers air between the inside and outside of your home, and the latter transfers air from your home to the ground or an outdoor water source.
Is There an Advantage to Having a Heat Pump?
Heat pumps come with many advantages. The greatest of these is their energy savings. Because they use only about half the electricity required for other heating methods, home and business owners who install them could see significant savings on their power bills. Heat pumps are heartily endorsed by the New York State Energy Research and Development Authority (NYSERDA) for their lowered impact on the environment. Because heat pumps don't burn fossil fuels, they have lower greenhouse gas emissions and a milder impact on local air quality.
Another advantage of not using fossil fuels is that heat pumps don't come with the risk of carbon monoxide poisoning associated with fossil fuel heating sources. In fact, heat pumps may actually improve your air quality by keeping the air circulating and by acting as a dehumidifier on damp days.
There are some things a homeowner should understand before installing a heat pump. It should be inspected once a year and will require regular maintenance. Otherwise, it may develop rattling or squeaking noises, grow mold inside the unit, or lose efficiency – especially at particularly high or low temperatures. Heat pumps work best on well-insulated homes or buildings, and don't function efficiently on those that are poorly insulated. When examining the pros and cons of heat pumps (for many Long Island homeowners), the former will vastly outweigh the latter.
Tragar Home Services Offers Heat Pump Installations in Partnership with Lennox
Tragar Home Services has partnered with Lennox, a trusted name in home heating and cooling, to offer heat pumps designed to provide decades of reliable and energy-efficient service. As a Lennox Premier Partner, we can offer valuable savings and rebates to our customers. We provide free consultations, proposals, and savings calculations to residents of Nassau and Suffolk Counties. Contact us today for more information about installing a heat pump, and to set up a free consultation.