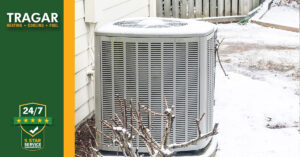 The days are getting shorter and shorter lately as we head toward another winter. That also means we're taking out the heavier blankets and bedding – and shutting the windows to keep the heat in our homes from escaping. Our home heating situation is never too far from our minds during these winter months.
Many homeowners on Long Island are in houses or units that don't have even heating throughout… some rooms are just warmer or colder than others. One of the ways to help offset that is through the use of heat pumps. These HVAC units are designed to move warm air from one source to another. While they are useful units that help to keep your home comfortable, are they able to work well in the cold winter months?
Should Your Heat Pump Run Constantly In Winter?
Ideally, you want to run your heat pump – or pumps – throughout the winter. Using heat pumps (rather than tapping into your boiler or furnace) can lead to noticeable savings in energy costs. That said, there are conditions that can come up which could lead to your heat pumps being less efficient.
How Cold Is Too Cold For A Heat Pump?
Different heat pumps have different optimal conditions but, as technology has advanced, heat pumps have become more versatile and effective in colder regions of the country – like the Northeast. That said, heat pumps tend to lose efficiency when the temperatures dip below 40 degrees.
That's not to say heat pumps won't work below that temperature, just not as well. And by that we mean that they require more energy to function, thus making them a less energy efficient option than in temperatures above 40 degrees. A heat pump should still function even below 25 degrees. That said, consult with an HVAC professional on best practices with your HVAC systems.
How Do You Defrost A Heat Pump In Winter?
If you notice that your heat pump is frosting over, the most important thing you can do is power down your heat pump.
Depending on your set up, you may be able to pour some warm water over the coils in the unit to defrost them. But you should only do that under the instruction or guidance of an HVAC professional. It's also possible the heat pump is frosting over because of a refrigerant leak, which will require professional repair.
Tragar Is Your Local Heat Pump Installation & Maintenance Experts
Heat pumps can help augment your overall home heating strategy. This winter, trust Tragar Home Services to handle all your home heating needs. We have the fastest emergency response time in the area at just two hours. Our highly trained professionals can evaluate your HVAC systems and perform maintenance and repair to prepare your home for winter, and even work with you on installing a new system with a maintenance plan if need be. Contact us today and enjoy some piece of mind for you and your family this winter.