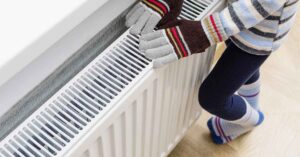 If a furnace or home heater is blowing cold air or otherwise not working, it's a big problem – especially in the dead of winter. Most furnace problems are easily preventable with regular, yearly maintenance, but some can happen from just normal wear and tear.

The Most Common Home Heating Problems
Lack of maintenance leads to issues that could've been prevented
Pilot light/ignition control problems
Clogged air filters
Air circulation problems from faulty belts, fans, etc.
Faulty thermostats
Leaky ductwork
Blower doesn't turn off
Over cycling
Cracked heat exchange
Mold in the heating system
How Do I Troubleshoot My HVAC Heater?
If your heater is blowing cold air or even if the furnace won't shut off, try a few steps and minor fixes before calling for a repair.
Check is your furnace filter. A clogged filter not only affects air quality, but it can also interfere with the normal operation of your furnace.
Check your thermostat. Make sure the heat is on and set a few degrees higher than your current room temperature. Does your thermostat use batteries? If so, replace them.
Check that the furnace switch is on. If it is, check your electrical panel. Has the circuit for the furnace been tripped?
If your heating system uses oil or BioHeat®, it's also smart to check your fuel supply. If you're on automatic oil delivery, you should be fine – unless you've had a lifestyle change that affects your oil usage, such as being home all the time due to a pandemic. If you call for oil deliveries, a sudden cold snap could have thrown off your normal usage. Either way, it's a smart thing to check if you suddenly lose heat.
Is your furnace flame burning blue? That's a sign of efficient burning. A little yellow flame at the edges is fine, but a yellow flame instead of blue is a sign of problems or contamination. Call your furnace maintenance company right away if you see yellow, red, purple, or green flame. And, of course, no flame is a bigger problem.
Check that all of your vents and heat registers are open
If none of these steps resolve the situation, call your furnace maintenance company immediately for emergency repair service. Depending upon their estimated arrival time and the temperature, you might want to take steps to keep your pipes from freezing. A frozen pipe on top of a furnace problem is a complication you don't want.
Can I Tell If My Furnace Circuit Board Is Bad?
While a bad circuit board is rarely the cause of a furnace problem – other causes are far more common – a few common things can indicate when that is the issue.
Warning lights on the control board
Temperature fluctuations
Cycle sequence interruptions
Regardless of the reason for your heater blowing cold air, it needs to be addressed quickly. Proper maintenance can prevent many of the problems listed above. Let Tragar keep your heating system running smoothly.
Tragar Can Keep Your Home Safe and Warm
Tragar is your winter heating ally. Whether it's maintenance, heating oil or BioHeat®, a new furnace system, or emergency repairs, our experts will handle whatever you need to keep your home cozy and warm. Contact us today.