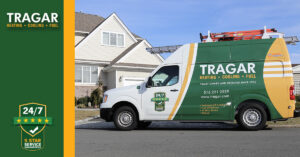 Lots of companies claim to put the customer first. At Tragar Home Services, it's not just talk. Like our customers… we live, work, and play on Long Island. We are a part of the community, which is why making our customers happy and exceeding their expectations is our top priority. We can literally bump into our clients during everyday activities, which means we're held accountable in a way national companies aren't.
That commitment to superior customer service is one of many things that sets Tragar apart from the so-called competition. It all combines into something we call "The Tragar Difference."
A Family-Owned and Operated Business
We're long-time Long Island residents, so we know the local weather challenges from first-hand experience and how that impacts keeping a house comfortable in summer's humid heat or in winter's blustery winds and frigid temperatures. We've been serving Nassau and Suffolk families since 1956, and Tragar is still run by the same family that's committed to caring for your family's home as if it were ours.
One example of how we do that is our policy for cleanliness during service calls. Not only do our service team members clean up after themselves during an installation, inspection, or maintenance call, but we go the extra mile. We cover our shoes so that we don't track outside dirt into your home. We also cover your floors before we get to work so there's no mess from dirt or soot.
Outstanding Customer Service
When you call Tragar Home Services, you're greeted by a friendly voice – 24/7. While other companies are outsourcing telephone services overseas, we keep it with us to ensure the best results.
Have an emergency in the evening or on the weekends? You'll get the same helpful, friendly greeting, and we have a 2-hour average for our emergency response time. We also value your time, so we always let you know when we're on the way… whether it's for a planned appointment or an emergency repair.
Fairness, Dependability, and Trustworthiness
The Tragar Difference isn't just about being neat and on time. It's also about how we conduct ourselves. Everyone on our team is highly trained and undergoes continual training to stay on top of the latest technology and industry changes, such as the NYS Clean Heat Program. All of our service technicians have also passed background checks so you can feel comfortable.
That trustworthiness also extends to our pricing. When you hire Tragar, you don't have to worry about any surprises. We use upfront pricing – no excuses or hassles. And our service is 100% satisfaction guaranteed.
Reliable Fuel Delivery When You Need It
At Tragar, we strive to make it as easy as possible to keep your home cozy and comfortable. That's why we also provide both standard home heating oil and BioHeat® (which is more environmentally friendly). We even have a sister company, Tragar Express, for those who prefer COD oil delivery of both standard and BioHeat®. Regardless of which type of fuel delivery you prefer, you can trust Tragar's reliability.
Cutting-Edge Technology
Because we live here just like you do, Tragar cares about keeping Long Island beautiful and green. We also understand the temperature extremes our island experiences over the course of a year, so high quality air conditioning and heating is essential.
Tragar can install and service the latest – and most energy efficient – heating and cooling systems. Options include the whisper quiet and highly efficient Energy Kinetics 2000 heat and hot water system and heat pumps, among others. And we are continuing to stay on top of industry changes and trends as new technologies and improvements occur.
Trust Tragar To Keep Your Home Safe & Warm
Winter or summer, Tragar Home Services is the family-owned business that takes care of your home as if it were ours. Whether you need routine maintenance, repairs, or new equipment installed, Tragar can provide all of your HVAC needs. We can also provide the more environmentally friendly BioHeat® for furnaces that use oil heat, and our sister company, Tragar Express, provides COD oil delivery at the best prices available. Contact us today for more information.