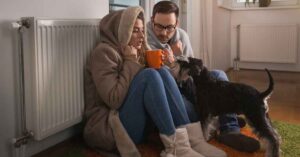 As Winter looms, it's worth your time to check your heating system to see if it needs maintenance or replacement. Preventative maintenance can extend the life of your heater, increase efficiency, reduce your power bills, and detect potentially deadly carbon monoxide leaks (The CDC reports that approximately 500 people die each year, and about 50,000 people are taken to emergency rooms, due to carbon monoxide exposure in the United States). It can also detect a unit at the end of its lifespan, preventing those unexpected and costly late-night emergency service calls.
How Often Should Furnaces Be Serviced?
Annual maintenance, performed by a qualified technician, is universally recommended by furnace manufacturers. Many warranties also contain clauses stating that damage caused by lack of maintenance will not be covered.
Should I Repair or Replace My Furnace?
A solid guideline when deciding whether to repair or replace your furnace is if the repair costs half the price of a new heating system, you should replace it.
How Long Do Oil Furnaces Last?
Most furnaces have a suggested lifespan of 18-20 years however, this assumes good upkeep and regular maintenance. Without these, the unit could fail after only 8-9 years.
Should I Replace My 15 Year Old Furnace?
Sadly, systems more than 15 years old are prone to frequent and expensive repairs and often need to be replaced. As each progressive repair is made, the cost of maintaining the older, less efficient heating systems becomes more of a losing proposition compared to the cost of replacement.
How Do You Know Your Furnace Is Going Bad?
The collection of dust and debris on the unit, high energy bills, and yellowish flames in your furnace are all signs that it should be checked out and needs servicing. Also, listen to your unit. Strange rattles, pops, squeals, and other sounds can indicate the end is near. Another sign to look for is the blower. Does it run excessively, switch on and off repeatedly, or blow cold air? These are all signs that the end of its life could well be approaching
When Should I Replace My Heating System?
There are a number of signs that your system is coming to the end of its days. Here are a few of the more common ones:
Frequent repairs, escalating in cost as time progresses.
Unusual noises, such as banging, buzzing, squealing, or rattling.
The presence of dust, soot, or rust, especially around the register.
The furnace starts switching on and off with increasing frequency.
Cracks in the heat exchanger.
Usage is consistent, but your heating bills are skyrocketing.
Uneven heating in your home, with some rooms warmer than others.
Signs of rust, cracks, or corrosion around the furnace.
A rise in the humidity in your home.
Tragar Is an Expert in Long Island Heating Systems
Whether you need routine maintenance, repairs, or a new furnace, Tragar can take care of all your HVAC needs. Reach out to us for more information and a free estimate.