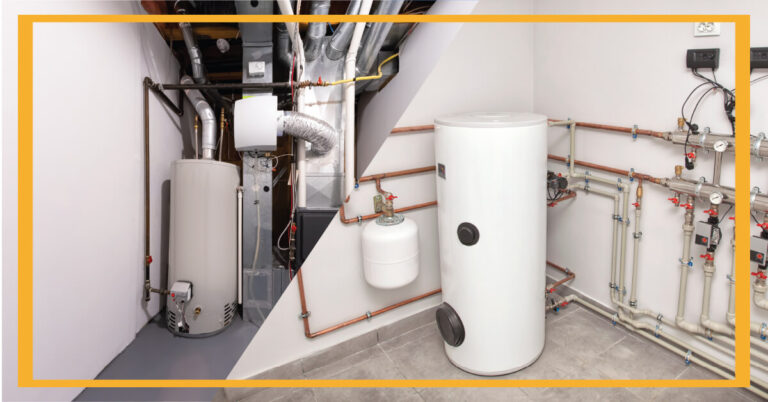 The average person tends to refer to the heating portion of their HVAC system as a "furnace". In reality, your home has either a furnace or a boiler, and while they both work to heat your home, each one does it in different ways.
Both furnaces and boilers are sometimes referred to as "central heating systems". The heat these systems generate, typically in the center of the home, is distributed through the entire house. So, how do the two HVAC systems differ?
What Is the Difference Between a Furnace and a Boiler?
Both furnaces and boilers are home heating systems. As the name indicates, boilers heat water and use either hot water or steam to transmit heat throughout the house through radiators or radiant coils for radiant floors. On the other hand, furnaces create hot air that moves through air vents and ducts to warm the house.
What Is a Boiler and How Does It Heat Your Home?
A boiler is a heating system in which a fuel source, such as oil or natural gas, is burned to heat water or produce steam. This hot water or steam is then piped through your home to distribute the heat produced throughout your property.
The typical distribution system for a boiler is through radiators but fan-forced coils, radiant floors, and baseboard convectors are also possibilities. With baseboard radiators, it's usually a hot water distribution system. As the hot water circulates through the system, it radiates heat that warms the room, and the cool water circulates back to the furnace to be heated.
Steam heat systems usually involve taller radiators. Systems that use steam heat tend to be less efficient than hot water systems, though recent developments have improved their efficiency. Hot water system boilers also tend to operate at lower temperatures than steam systems, which some homeowners prefer.
How Does a Furnace Heat Your Home?
A furnace is a heating system that burns fuel, natural gas, or heating oil to heat a metal heat exchanger. That device transfers the heat generated into the air. A blower pushes air through the heat exchanger and air handlers circulate the heated air through ductwork, distributing the heat throughout your home.
Can You Get Central Air with a Boiler?
When your heating system involves a boiler, this means it doesn't have the ductwork necessary for distributing cold air with a classic central air conditioning system. However, if you want to get rid of window AC units, mini-split ductless air conditioning could be the solution.
Can a Home Furnace Heat Water?
Whether a home furnace can heat water depends upon the type of water heater you have. Indirect water heaters can use heat from a boiler, heat pump, or furnace. The heat exchanger for the water heater's immersion coil can be connected to a furnace, boiler, or heat pump.
Do I Have a Boiler or a Furnace?
If your home had ductwork or air vents, it has a furnace. If you see radiators, either baseboard or full size, the house has a boiler. However, a house could have a boiler without radiators if it's designed for radiant floor heating.
The best way to tell if a house has a furnace or a boiler is to look at the heating system connections. If it's connected to pipes, which are usually copper, it's a boiler. If it's connected to ductwork, it's a furnace.
Tragar Is the Expert in Long Island Heating Systems
Whether you need a repair, a brand new furnace, or a system upgrade, Tragar will work with you to make it a seamless transition. Reach out to us for more information and get a free estimate!