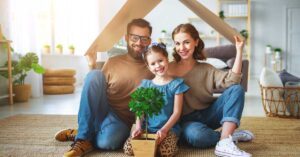 Summer doesn't just bring heat. It also brings a lot of misinformation about air conditioning and keeping cool. The problem is some of those myths can end up costing you a lot of money, so let's address some common AC myths.
Will a Bigger AC Cool My House Faster?

When it comes to air conditioning, bigger is not always better. Obviously, an AC that's too small is a problem so homeowners often assume that a bigger unit is automatically a good idea.
The problem is that when an air conditioning system is oversized for the space, the compressor will cycle on and off too much. That overtaxes the compressor and can lead to a breakdown.

Will My House Cool Quicker If I Turn the Temperature All the Way Down?

The idea behind this myth is that setting the temperature lower will get results faster. The problem with this theory is that an air conditioning unit only works so hard. Setting the temperature lower won't change how the air conditioner functions, just the temperature at which the compressor turns off. It also doesn't affect how fast the space cools. According to Energy.gov your thermostat in the summer should be set for 78 degrees when you're home and awake.
According to the Refrigeration Service Engineers Society, a thermostat should only be adjusted by 2 degrees to stay comfortable. When away or sleeping, the adjustment can be 7-10 degrees.

Thermostat Placement Doesn't Really Matter

Thermostat placement is crucial for keeping your house properly cool or warm, depending upon the season. A bad placement means that it won't go on often enough, meaning you'll be uncomfortable, or it'll cycle too much, wearing out parts and use too much energy.

A Good Thermostat Placement Involves:
Out of sunlight. Direct sun on the thermostat means it's receiving incorrect information.
Away from the kitchen. The oven, stove-top, etc. all generate heat that will also throw off its sensor.
Balanced airflow is crucial. Windows, doors, and sometimes hallways can cause too much or not enough airflow to interfere with thermostat readings.
Ceiling Fans Will Reduce My Air Conditioning Costs
Ceiling fans don't actually cool a room. They just move air around. The air movement makes you feel cool, but the room's actual air temperature doesn't change.
If you have high ceilings, a ceiling fan could be useful in winter. If it's turning clockwise, it will push down the heat that otherwise rises so you can feel the warmth better. In the summer, a ceiling fan should turn counterclockwise to pull up the cool air, which would otherwise stay down by the floor.
AC Maintenance Only Matters When There's a Problem
If there's a ranking of how wrong the myths on this list are, this myth would be the most incorrect. Regular maintenance not only keeps your HVAC system running, but also keeps it working efficiently. A clogged air filter means worse air quality and a less efficient system. Regular maintenance and checking can prevent breakdowns, yearly maintenance can do a lot to keep your system running properly.
Keep Cool with Tragar
Let Tragar help you stay cool this summer by keeping your cooling system well maintained and installing accessories, like a programmable thermostat to enhance results. Tragar and our HVAC experts take care of it. Contact us today.