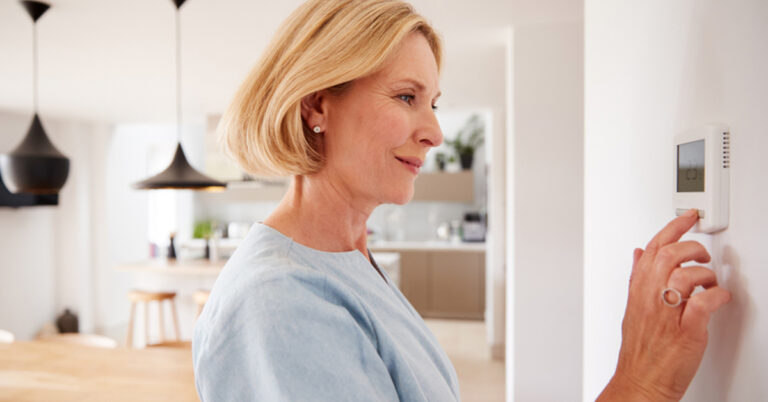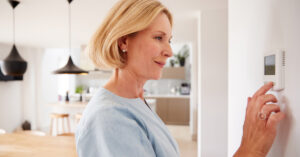 Staying warm this winter and balancing that with energy efficiency is a common goal. Avoiding myths and misinformation about how to do it is more difficult. Whether it's for your home, apartment, or business, here's what you need to know about energy efficient room temperatures.
What Is the Ideal Temperature Inside a House?
Temperature sensitivity and metabolism make it difficult to cite one ideal temperature. What's comfortable for you may be too hot or cold for another family member. However, WebMD cites a range between 65 and 72 degrees as an ideal comfort range. Lower is possible while sleeping, though it notes that a room that is too cold or too hot can interfere with sleep or wake a person in the middle of the night. That temperature range doesn't take energy costs into account at all.
What Should I Set My Thermostat to in Winter?
The recommended temperature to balance comfort and energy savings during winter when at home and active is 68 degrees. While sleeping, the thermostat can be set back to 62 degrees. However, that's under average conditions. Variables such as using a ceiling fan to push warm air down, allow you to keep the thermostat a little lower. A home with poor insulation might need to be a trifle higher so knowing your home is important.
If that feels too chilly or too much of a change for your family, the gradual adjustment method can help. Start with just a one degree drop from your current temperature. Then a week later drop it one more degree and so forth until you reach 68 degrees when home and active, and 62 degrees while sleeping.
But wait, you say, doesn't it cost more to heat your home after turning it up from a lower temperature? Isn't it cheaper to keep it at a constant temperature? No, as Energy Star explains, homes generally warm up quicker than you think. Lowering the temperature overnight and when you're not home saves more money than any spent to raise the temperature of your home when you need it.
Using a programmable thermostat or a smart thermostat can make it much easier to save money and energy. They allow for greater flexibility and even remote control and monitoring of your home's temperature.
The iComfort® S30 Smart Thermostat From Tragar Home Services
What Temperature Should I Set My House When Away?
Whether you're a snowbird or just going away for the weekend, wasting energy and money when you're not there is foolish and unnecessary. However, fear of frozen pipes frequently leads people to set their thermostats higher than necessary. The most important thing is to not turn off your heating system entirely during the winter. No matter how well insulated your home is, that would be a recipe for disaster.
The general rule of thumb is to set your thermostat for four degrees lower than your sleeping temperature when you go away, modifying that as needed based on your home's insulation level. If your heating system runs on gas, you can go eight degrees lower because gas takes less effort to heat your home.
Other experts say to set your thermostat to between 50 and 60 degrees when away on vacation. Where to fall within that range depends upon your plumbing. If you have pipes, which include heating pipes in addition to water pipes, only on interior walls, 50 degrees should be safe. If, however, your pipes run through exterior walls, 55-60 degrees is safer. Why not lower since water doesn't freeze until 32 degrees? Because no home has one consistent temperature. Some rooms are warmer than others and during a cold snap that can lead to a frozen pipe – especially if your home's insulation has grown thin.
Does Office Temperature Affect Productivity?
According to surveys, yes, room temperature affects office productivity. In 2006 Researchers at the Helsinki University of Technology Laboratory for Heating Ventilating and Air Conditioning in Finland found that workplace performance improves at temperatures between 69.8 and 71.6 degrees with the most productivity around 71.6 degrees.
Additionally, a 2004 Cornell University study found that workers, when cold, made more mistakes. This increased their labor rate by 10 percent. When the temperature increased from 68 to 77 degrees, mistakes fell by 44 percent and typing output increased 150 percent.
Tragar Can Keep Your House Safe & Warm
Tragar is your winter heating ally. Whether you're interested in heating system maintenance, a system upgrade, oil-to-gas conversion, heating oil or Bioheat® or more, we have the experience you need. Contact us today.