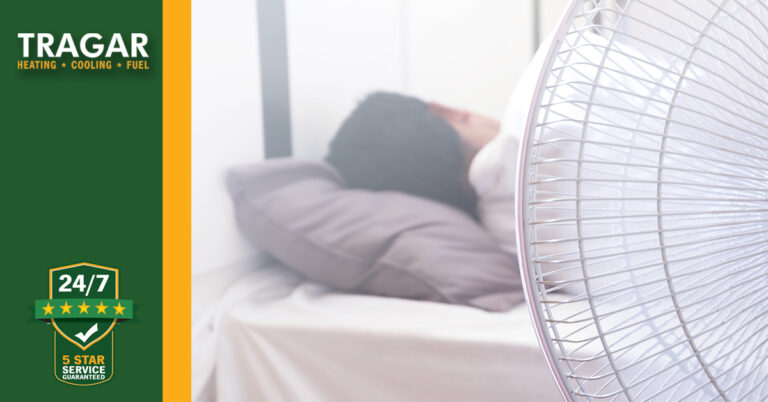 It's that magical time of the year here on Long Island where after we experience a couple of weeks or so of spring weather that we're hurtled into full-blown summer heat. We're figuring out how much longer we can keep the windows or the back door open before we have to take out the fans, turn on the air conditioning, or lower your central air unit.
This all leads to an awkward time of year where we try to gauge if we need the fan or the AC on to get a good night's sleep. And depending on your home HVAC system… it might be difficult to tell how much you've cooled down your bedroom to help you sleep. We may find ourselves in a position where it takes some time to adjust the temperature to optimize our sleep. In order to help you narrow that down, we'll be going over what's typically considered too hot or too cold for an optimal sleeping temperature.
How Hot Is Too Hot To Sleep?
Lowering the temperature in your home at night isn't something we just do to save money during the winter; it's in line with human nature. Our bodies naturally decrease in temperature by a degree or two as our bodies get ready to fall asleep. As a result, our bodies would like it if the rooms we are in stayed a bit cooler too.
Sleeping in higher temperatures can do more than make it difficult to fall asleep; it can interrupt your sleep over the course of the night! Studies have shown that sleeping in temperatures of 87 degrees Fahrenheit or higher can reduce both slow-wave sleep and the R.E.M. stage of sleep – which is important for your sleep cycle and overall health. So, the best sleeping temperature is one on the cooler side.
How Cold Is Too Cold To Sleep?
While there are problems with sleeping in too hot of a room, sleeping in too cold of a room has its downsides as well. Some of the most concerning developments that can come about from sleeping in too cold a room include blood vessels getting constricted as well as increased pressure on your cardiovascular system (as your body works to bring your core temperature up to compensate). For most people, this is something that can happen once the temperature dips below 60 degrees Fahrenheit.
Is It Better To Sleep Hot Or Cold?
Finding the best sleeping temperature for comfort is important, but what about when you have to compromise with a partner?
While you should avoid sleeping in too hot or too cold of a room, it's usually better to be a little too cold than too hot. Some recommend in the mid-60's for the room temperature. That said, 72 degrees isn't too hot either.
Tragar Is Long Island's Trusted Name In Heating & Cooling Installation, Repair, And Maintenance
A trusted name on Long Island, we provide 5-star service for our customers during and after business hours. We have the fastest emergency response time in the area at just two hours. We handle installation, maintenance, repair, and replacement of HVAC systems for all your heating, cooling, and plumbing needs.
Our highly trained professionals can evaluate your HVAC systems and perform maintenance and repair to make sure you can properly control your home's temperature and get the sleep and comfort you deserve. Plus, it's good for your health! Contact us today to see how we can help you live more comfortably and better host guests in your home.