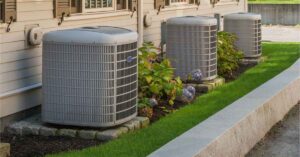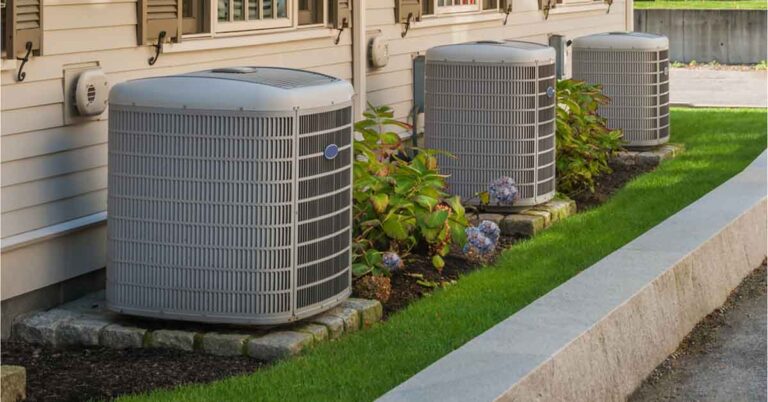 The placement of your HVAC condenser unit matters – a lot. HVAC clearance makes a difference in how efficiently it operates and its risk of being damaged.
The condenser for a central air conditioning unit (and other types of air conditioning) relies heavily on proper air circulation. A fan pulls in fresh air through the grills, directing the air through the condenser coil to cool it, and then warm air is expelled from the top or one side, depending upon the design of the unit. Placing an HVAC unit in the wrong location can hinder airflow, making it harder to cool your home or, in some cases, even leading to a critical failure.
How Much Clearance Does HVAC Need?
Make sure your HVAC unit has at least one foot of clearance around it, with two to three feet of space being better. This recommended spacing includes the distance between the HVAC unit and other structures like fences, buildings, shrubs, masonry, etc.
However, also check the installation instructions for your specific unit to be sure of the proper clearance space and any other requirements. While one foot is the absolute minimum, two to three feet ensures proper airflow. This also helps when your HVAC system needs servicing by allowing a technician to have reasonable access.
How Much Space Do You Need Around an AC Condenser?
Horizontally, the minimum clearance space for an air conditioning condenser is one foot, however, two to three feet is optimal. Vertically, the minimum space for an AC unit clearance from trees above is five feet.
Additionally, the following guidelines will help ensure that you select the right location for your HVAC unit.
Shade is Better Than Sun.
Your AC condenser will run more efficiently and use less electricity if it's not in the hot sun. If an entirely shady spot isn't possible, select an area that gets as much shade as possible. The Department of Energy has an energy saver landscaping guide to help you use nature to lower your energy costs.

Plan The Right Plants.

Falling leaves can get into your HVAC unit and cause problems. Making sure that the trees and shrubs in the vicinity of the unit are evergreens that keep their needles and leaves can be a big help. Certain specific species of oak and beech trees also keep their leaves, but do your research or consult with a local arborist or nursery if you're unsure.

Add a Protective Border.

Mud splashes that land inside the unit can make the condenser coil work harder. In fact, they've been shown to cause a 30 percent increase in energy consumption. Adding a stone or paver border (either entirely stone or stone mulch surrounded by a stone or paver border) will keep grass and mud away from the unit. Additionally, because the mower won't be close, this will protect the unit from damage as well.
How Close Can an Air Conditioner Be to a Property Line?
That depends upon the zoning rules in your municipality. An experienced HVAC installer will know the required clearance in your area or you can check with the zoning department.
Can an AC Unit Go Under a Deck?
If it's a tall deck that would allow five feet of AC unit clearance from all sides, including above, technically it is possible, but not recommended. It can lead to a variety of complications and issues.
Can You Move an HVAC Unit?
Yes, you can, but it's not something to be done lightly. It also requires a professional. If it is necessary, such as when adding an extension to the house or if the only good place for a deck is where the HVAC unit currently is, moving your HVAC unit is the better solution.
Call the HVAC Experts at Tragar
If you're concerned about your indoor air quality or want to improve the air quality in your home, call us for an appointment with our HVAC experts. Call Tragar at (516) 221-2559 for a free estimate or fill out our free estimate form!