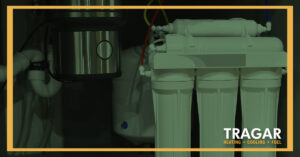 Sometimes you find spots on your glasses after running the dishwasher or get a soapy feeling on your hands after washing them. That is because your water is "hard". Hard water is water that is high in mineral content – most often calcium and / or magnesium. Since this is caused by minerals suspended in the water, the problem can often be solved by water filtration.
Can You Filter Your Whole House's Water?
Certainly, you can! It simply involves adding a point of entry (POE) to your home. These whole house water filters are attached to the main incoming water line so that all water used in the house has been run through their filters.
Depending upon the type of filtration used, this can not only cause a reduction in water hardness but can also remove sedimentary particles. It may also reduce or remove the chlorine smell you sometimes encounter with typical tap water.
Is a Whole House Water Filter Necessary?
Whether a whole house water filter is necessary depends on the quality of your local water supply. If your water has an odd taste, smell, or color it is advisable (as those are obvious signs of impurities in your water).
A water filtration system can also reduce the wear and tear on your appliances and pipes by removing these contaminants and thus minimizing corrosion. In some cases, this can increase the lifespan of your pipes by as much as 25 percent.
Is It Worth It to Get a Whole House Water Filtration System?
If your goal is merely to have filtered water for drinking and cooking, then a Point-Of-Use (POE) filter might fill your immediate needs. However, a whole house filtration system offers benefits far beyond that:
More cost effective than pitcher or faucet filters.
Better tasting water
Less rust stains and scale, which can extend the life of your water heater.
Clothes are brighter after washing.
Much more convenient than other types of filters.
What Is the Best Water Filtration for My Home?
That will depend on what sort of impurities you are dealing with. Carbon filtration is the most common and is especially good at removing chlorine and pesticide contamination – although not as good at removing heavy metals. Reverse osmosis filtration is great at removing metals and chemical contaminants – but not as good at removing pesticides.
Ultraviolet filters are used for biological contaminants like bacteria but do nothing for metals and chemicals. To ensure that you select the right type of water filtration for your needs, talk to one of our experts at Tragar Home Services to learn what options will best serve your needs.
Tragar Home Services Has The Water Filtration Solution For You
For more than six decades Tragar Home Services has delivered five-star service to Long Island homeowners. Our expert staff will work with you to develop the filtration system that best fulfills your water requirements and with minimal budgetary impact. Contact us today, and experience the Trager difference!