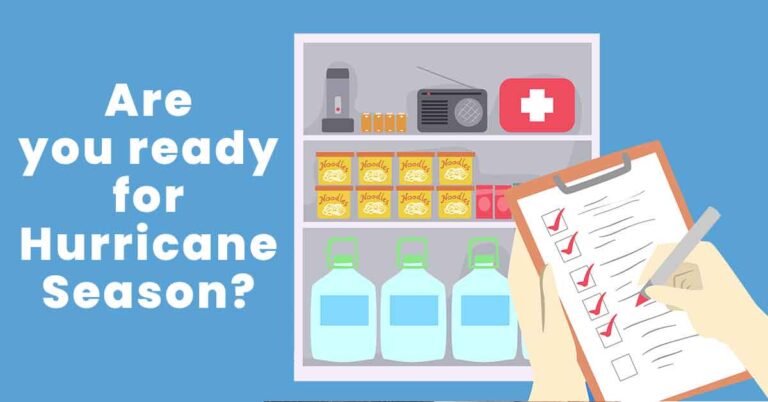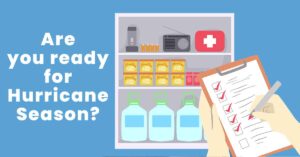 Along with summer heat comes thunderstorms and lightning. Worse, hurricane risk increases as ocean water warms over the course of the summer. Traditionally, hurricane season lasts until November 1, but this year experts warn that due to an elevated ocean temperature at the start of the season, it could last a bit longer than usual. That means hurricane prep is even more important in 2020.
Why Is It Important to Be Prepared for a Hurricane?
Because the weather can change rapidly. Not only can a tropical storm or hurricane form quickly, but it can also change direction just as quickly. The storm you thought was going to head out to sea could be heading your way instead.
3 Reasons to Be Prepared for a Hurricane
Avoiding Lines. People understandably panic when a hurricane is on the way. Advanced hurricane prep and already having a hurricane prep kit on hand means you can avoid long lines on sold out essentials.
More Time to Make Plans. You want to have both an evacuation plan and a family communication plan. You might also need plans for your pets, medication, etc.
Home Protection. Items to protect your home, like storm shutters, take time to acquire and install.
How Do You Prepare Your Home for a Hurricane?
Hurricane prep boils down to having supplies, doing things to protect your home, and preparation for possible disruptions after the storm. All three steps are vital for getting through a hurricane safely.
Protecting Your Home Includes
Trimming weak tree branches.
Making sure to take any outdoor furniture or similar items inside your home to avoid them being lifted by heavy winds, as this could cause damage.
Be prepared for any possible insurance claims by taking photographs of your home inside and out before the storm.
Take an inventory of your possessions, especially electronics, jewelry, and other expensive items.
Make certain you know where all of your important papers and documents are so you can keep them safe.
Before the storm, fill your bathtub(s) with water for flushing toilets in case the normal water supply is disrupted. (Note that your drinking water supply is separate from this)
Store your hurricane supplies in plastic tubs with tight-fitting lids to protect them and make sure you pack clothes in the event of an evacuation.
If possible, bring your cars into your garage. If that's not possible, try to park them on higher ground away from trees and light poles that could fall during a hurricane.
For additional hurricane preparation tips, download this hurricane guide from the Federal Emergency Management Agency (FEMA).
What Supplies Do You Need for a Hurricane?
A hurricane supply list will vary slightly according to your personal needs and the potential severity of the storm. Despite that, certain essentials, like the ones listed below, should be on your hurricane prep checklist.
1 gallon of water per person per day. (remember to count pets!)
At least a 3-day supply of food that doesn't require cooking or heat.
Flashlights and electric lanterns.
A battery-powered or hand-crank radio.
Extra batteries.
Cellphone charger and a back-up portable power supply.
One or more first aid kits.
Any necessary prescription medicine(s).
Fill the gas tank of every car.
Have cash on hand in case power outages interfere with ATMs after the storm.
Consider getting a solar-powered charger in the event of a lengthy power outage.
Candles and matches can be handy so long as you have sturdy holders that won't easily tip over.
Basic tools are useful in case you need to make a quick repair.
Tragar Keeps Your HVAC Safe
Talk to our experts at Tragar about hurricane prep for your HVAC systems as well as ductless air conditioning units. In the event of a needed emergency repair, keep us on your speed dial and we'll send someone out to assist. Don't hesitate to reach out to us. Our phone number is (516) 221-2559. An ounce of prevention saves headaches and higher repair or replacement costs later. Tragar and our HVAC experts can take care of the issue. Contact us today.