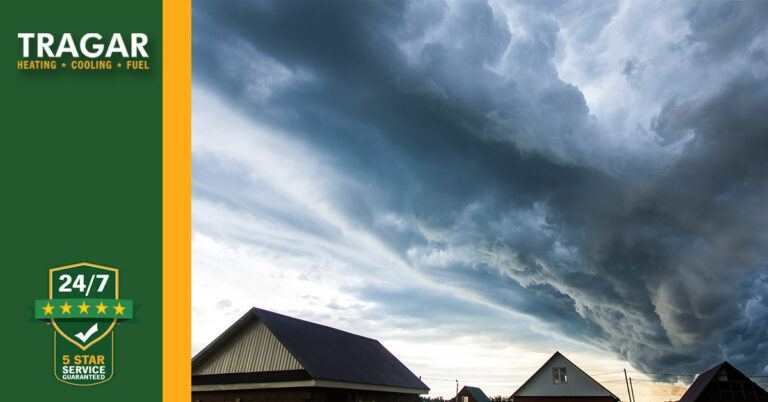 According to the National Hurricane Center, a hurricane only impacts the New York area every 19 years. Major ones – Category 3 or above – only happen every 74 years. Hurricane Sandy hit October 29, 2012 and resulted in many deaths and injuries… and billions of dollars in damages.
Hurricanes, though rare, are dangerous forces of nature. But knowing what to do to prepare for one can help save lives and reduce potentially costly repair bills.
Is It Safe to Run Your AC During A Hurricane?
You should never run your AC during a hurricane or other severe storms – especially if your neighborhood often suffers power outages during storms. It's possible that, when power returns, it could cause a power surge that might damage your system if your AC is left running.
If your unit has a plug, a power surge may melt it and it could damage the electrical circuitry in the control panel. This will mean an expensive repair or a complete replacement of the unit. Surge protectors can protect your AC unit from a power spike… but not a lightning strike. So, it is still safer to recommend shutting off the air conditioner during a storm.
Should You Remove Window ACs Before A Hurricane?
Air conditioners falling out of windows happens exceedingly rarely in any weather condition – and even more rarely causes harm to people. It happens so rarely that the NYPD does not compile any data on air conditioning accidents.
During Hurricane Irene in 2011, former New York City Mayor Mike Bloomberg discouraged people from removing their units. Saying it was far more likely to increase the chances of an accident involving a unit falling out of windows.
Can You Use An AC In A Storm?
Generally, yes, you can use an AC in a storm. The compressor and condenser motors are mounted on the outdoor part of the unit and it's their function to remove heat in order to function properly. These systems aren't at risk during run-of-the-mill rain showers.
However, the answer may change if it's a lightning storm. The refrigerant within an air conditioner is nonflammable so – while there isn't much risk of an explosion from a lightning strike – there's still a slight risk a lightning strike could disrupt the controls of your entire HVAC system if it were to strike while the system is running.
Can A Window AC Get Struck by Lightning?
If you live in a lightning-prone area, your home should have protection systems in place with things like lightning rods, conductor cables, and ground cables. While the goal of all these devices is to provide a path to the ground that doesn't involve frying your home systems, no system is perfect. That's why it's commonly suggested you turn your air conditioner off as a preventative measure.
Tragar Is LI's Trusted Name In Cooling and Reliable Emergency Repair Services
Providing 24/7 service to the Long Island area for more than 60 years, Tragar Home Services is the most trusted name in air conditioning and home cooling installation, maintenance, and repair. You can count on us to be available for emergencies and storm-related repairs. To learn more about our services and to get a free estimate, contact us today.