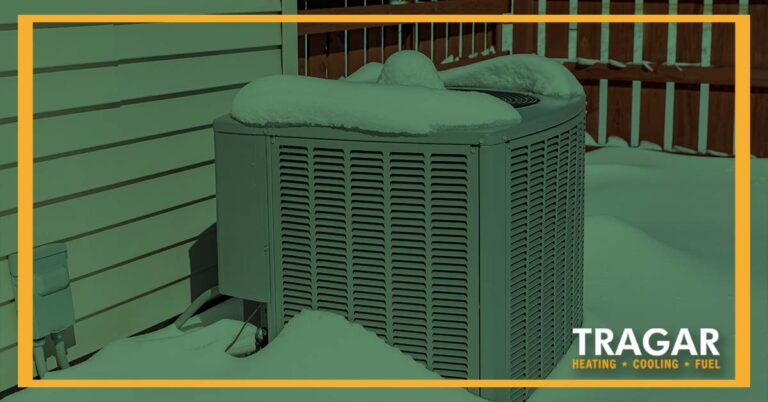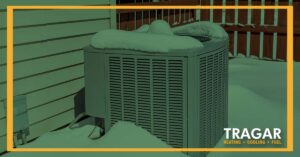 As the leaves start to fall and the days grow colder, many homeowners are beginning to prepare for the snowy season ahead. A little preparation can help avoid big problems down the road. So, here are some common questions and advice to help you prepare and protect your HVAC systems during the winter.
How Do I Protect My HVAC Systems?

Your indoor components like a furnace or a boiler will be protected already as you're indoors. However, you should still make sure snow doesn't block any of your ventilation.

Heat pumps have a defrost function you can use. To help protect it further, we also suggest that you manually remove any snow around it. Make sure the heat pump is off while you clear away the snow and try to clear a two-foot space around the unit for the best effect.

How Do I Winterize My Central Air Conditioning?

Your air conditioning unit is built to withstand the elements, but a cover or a piece of plywood over the top can prevent an excess of moisture or falling ice from damaging the unit. Just be sure to remove any coverings when you begin to use the system when the weather warms up.

What Temperature Should I Set The Heat At?

The U.S. Department of Energy suggests setting the thermostat to 68 degrees while you're awake. You can also save up to 10% a year on your heating (and cooling in the summer) by lowering the temperature by 7°-10 degrees while you're sleeping or out of the house.

Should I Turn Off My Air Conditioner?

You generally don't have to if you just turn off cooling on your thermostat. Though, it is possible a surprisingly warm day may cause it to turn on. This could cause damage as the unit draws snow and water in. To fully turn the unit off, you will need to disconnect the exterior unit by flipping the breaker switch off, usually located near the condenser. Just remember to turn it back on after the winter is over.

Can Heating Systems Freeze?

A heat pump can ice up and that's okay. It uses a refrigerant to absorb heat from the outside air and moisture can build up on the coils. On cold days, this moisture can form a layer of ice.

Fortunately, heat pumps have a defrost cycle and this should only be a concern if it lasts for more than an hour.

How Do I Defrost My Heating System?

You cleared the snow and debris from around the heat pump, you waited for hours, and the heat pump is still frozen. To remove the ice, you can use a hose or warm water, but do not use boiling water, and do not do this at all if temperatures are still below freezing outside.
Here are a few other simple DIY maintenance tasks you can perform when your heat pump freezes up:
Make sure the condenser is clear of snow and undamaged
Checking for any source of excess water like gutter runoff or dripping from an unfortunately placed tree branch.
Check if the air filter needs replacing.
If you're looking for more information on preparing your HVAC for a snowstorm and other winter storm prep, here are five easy tips for you.
If there is still an issue with the unit, there may be more complicated problems going on. In these cases, it may be time to contact the professionals at Tragar Home Services.
Tragar Can Keep Your Home Safe and Warm
Tragar is your winter heating ally. Whether you need maintenance, heating oil, a new heating system, or any other heating installations or services, Tragar Home Services has been keeping Long Islanders warm for more than 60 years. Our experts will handle whatever you need. We can even install radiant floor heating. To learn more or to schedule a service or installation, contact us today.