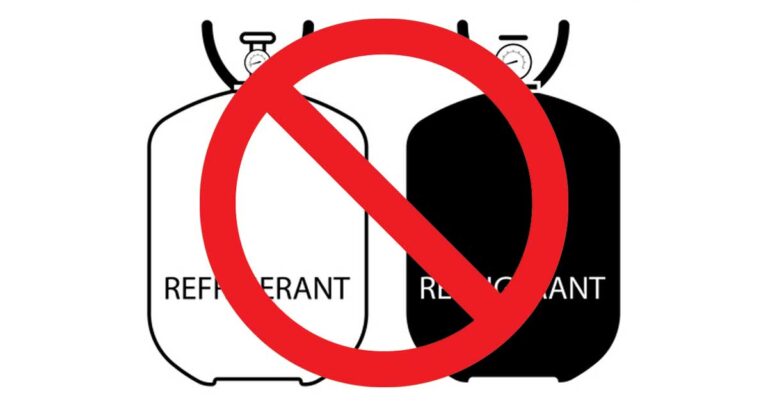 One year after the Freon ban has taken effect and with the warm weather starting, what does it mean for your home cooling system? That depends entirely upon your current system and if it involves Freon AC. No matter the situation, Tragar has a solution for you. For an overview of what the Freon Ban means, keep reading.
The good news is that if you've bought or upgraded your air conditioning system since 2010, you may be fine already. The Environmental Protection Agency (EPA) began the phase out of Freon in 1992 when it ordered the ban that took effect in 2020. Because of the long phase-in starting in 2010, new air conditioning, heat pumps, and refrigeration systems stopped using Freon, which is also known as HCFC-22 and R-22.
In 2010, a refrigerant known as Puron or R410A was substituted instead. If, however, you have an older air conditioning and cooling system that uses Freon, the solution is a bit more complicated.
Is Freon Being Discontinued?
Yes, Freon, also known as R-22 or HCFC-22 (meaning hydrochlorofluorocarbon) cannot be produced within the United States or imported into the U.S. from other companies. This EPA Freon ban took effect on January 1, 2020.
Why is refrigerant needed in air conditioning systems? Because most such systems use vapor compression. The refrigerant, whether Freon or its replacements, like Puron, are kept under pressure in liquid form. The system takes advantage of a process known as phase conversion to cool and remove humidity from warm air, producing cool air.
Over time, the ban on Freon manufacturing and importation will diminish the use of Freon. This way, items using Freon are not banned but instead will gradually be replaced, especially with the long phase-in period prior to the 2020 creation/importation ban.
Why Is Freon Being Banned?
While Freon is very useful for refrigeration of all types, it also damages the ozone layer, which protects from harmful ultraviolet rays. Ozone layer depletion has been blamed for contributing to 280 million cases of skin cancer in the United States, including 1.6 million deaths, and more than 45 million instances of cataracts. So as part of the Clean Air Act, the Freon phase-out was ordered.
That said, people commonly misunderstand the terms of the ban. While manufacturing and importation are banned, use is not. So existing systems that use Freon can continue to be used – that isn't banned. Since new systems have been manufactured to use Freon replacements since 2010, Freon-based systems are gradually being eliminated.
Freon reclamation and recycling are allowed under the Clean Air Act, so long as it is done in accordance with EPA regulations for safety and to avoid environmental exposure. Such Freon can be used to repair and replenish existing Freon-based systems. Though, the dwindling supply and increasing cost of recycled Freon will also contribute to consumers replacing older systems with new ones that use the Freon alternatives.
What Will Replace Freon?
A number of environmentally friendly refrigerants have been developed to replace Freon. The most common replacement for Freon is known commercially as R-410A as well as the names Puron, Forane 410A, SUVA 410A, and GENETRON AZ-20. The EPA has a complete list of refrigerants that comply with the Clean Air Act.
Is Freon Dangerous?
In the case of direct exposure, Freon is dangerous and harmful. Using it properly in air conditioning and refrigeration systems is safe. However, Freon is mostly odorless and tasteless in its gaseous form. If a person inhales it deeply, the gas cuts off vital oxygen from your lungs and cells. Limited exposure through inhalation or skin exposure is only mildly harmful by comparison.
Can You Put Freon in a Window Unit?
Depending upon the air conditioner, yes, Freon can be added – but it's not a thing to be done lightly. First, you have to be sure that the window unit actually uses Freon because you can't mix Freon with other types of refrigerants.
Second, the process is dangerous, so it's best handled by experienced professionals to avoid both problems and damaging the unit. It's also dangerous for the person doing it, with mistakes potentially leading to death. While some things can be done by amateurs, adding Freon to a window unit or any system is not a good DIY project.
Contact Tragar – The HVAC Experts
If your HVAC system needs service, upgrading, or replacement, call Tragar at (516) 221-2559. We have decades of experience in all aspects of air conditioning maintenance, repair, installation, and replacement of air conditioning. Contact us today.