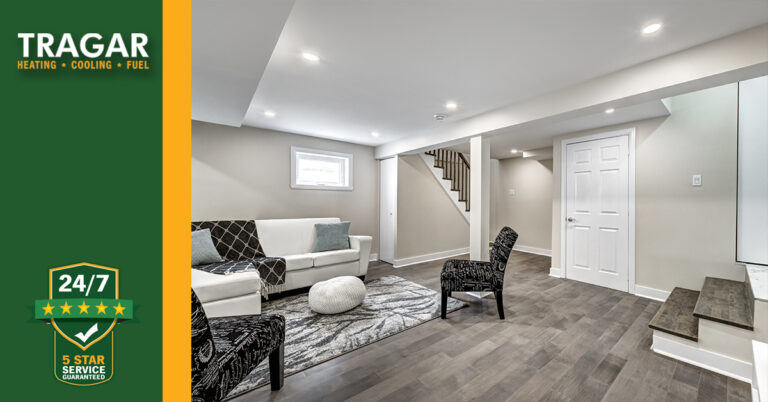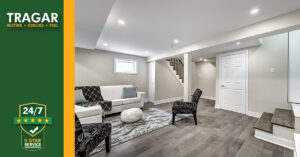 Controlling the temperature and humidity in your basement is important for your comfort and the overall health of your home. Most basements run 15 degrees cooler than your main level floor and may not have been originally built with use beyond storage in mind.
While it's easiest if your basement already has access to existing HVAC and ducting, there are a lot of ways to efficiently heat and cool your finished basement.
Should You Heat a Finished Basement?
For the sake of your comfort, health, and energy efficiency, you should certainly heat your basement – whether it's finished or unfinished. Warmer temperatures on your main floor will draw cold air out of the basement to make for cold feet.
Inadequate air circulation can lead to stagnant air causing the basement to become an incubator for mold growth. A cold basement can lead to heat loss in water lines and basement ductwork that can cause heat to migrate to the basement. That, in turn, can lead to depressurization… which can cause more outdoor air being pulled in through joist leaks.
What Is the Cheapest Way to Heat a Basement?
Everyone's needs and options are different, but one of the most budget-friendly options is a simple space heater that can be plugged into a wall. This will depend on the wattage of the space heater and how much you pay for electricity – but most heaters run around 1,500 watts or 1.5 kilowatts of electricity. You can use this to help determine the actual cost by multiplying the wattage by the number of hours you intend on running the heater, then simply multiplying that by however much your utility company charges for electricity.
However, this "cheap" solution has risks that can be more expensive in the long run. All space heaters include usage instructions that state to only use a space heater when you are in the room. Not doing so means that if something goes wrong, you won't discover it until too late. Using a space heater to heat a basement when you aren't there is dangerous. Having it off when empty (while safe) means it's not preventing the problems associated with an unheated basement.
The next best solution in terms of cost and best overall in practicality and comfort would be to add a ductless heating system to your finished or unfinished basement. Installation for ductless heating is far quicker and less expensive than a traditional heating system, is much safer than a space heating, and can provide the consistent heat flow essential to overall comfort in your home (while also preventing the depressurization and mold growth described above). It can also improve your home's overall value.
How Do You Heat and Cool a Finished Basement?
One option is to work with an HVAC professional to tap into and extend your existing heating and air conditioning system. Working with a professional will make sure you maintain the balance of your system, don't overburden your furnace, and fulfill all safety and code requirements.
However, installing new ducts may become an expensive option. That's one of many reasons for the growing popularity of ductless heating and air conditioning systems.
You might also consider a ductless heater for basement heating and cooling. They typically involve creating a small hole to provide a line for the refrigerant or cooler coil to connect to the outdoor condenser. Ductless heating and cooling are a perfect solution for a new zone – like a newly finished basement or addition – or parts of an existing home that tend to run colder or hotter than the rest of the house.
What Type of Heater Is Best for a Basement?
To fully understand your basement heating requirements, it is to best consult with an HVAC technician. They'll help you understand the needs of the space and how to efficiently achieve your goals.
Basement wall heaters are a self-contained, space-saving option. Most are recessed within a wall and are quite efficient at heating small spaces by drawing cold air and blowing warm air into a room. They can be powered by either gas or electricity. Unlike heating a basement with forced air, they can be noisy and, in the case of gas heaters, carry a risk of carbon monoxide poisoning.
A ductless heating system also usually involves installing the unit on the wall, so it is similarly convenient and self-contained. Ductless heating can be used with a heat pump or electricity, so it doesn't have the same carbon monoxide risk other heating solutions do.
How Do you Heat a Basement Efficiently?
Your specific situation will vary based on your needs and the home's existing heating system. You'll need to look at how you occupy the space. Is it storage that needs steady humidity or does it have bedrooms where people will be spending frequent amounts of time?
Adding a new heating zone to the basement is a common option, but the solution that is growing in popularity is adding a ductless system. A ductless heating system with a heat pump is very energy efficient, creates comfortable results, and has lower installation costs than adding ductwork or baseboard units to extend the existing heating system to the basement.
Tragar Home Services Are the Home Heating Experts
Tragar Home Services has been serving Long Island homeowners for more than 65 years, providing year-round comfort solutions and reliable customer service. We pride ourselves in providing 5-star service for our customers 24/7. Our highly trained professionals can evaluate your home and work with you on a heating solution that meets your needs. Contact us today for a free estimate.