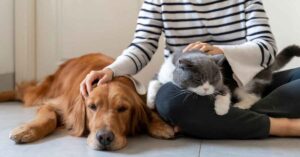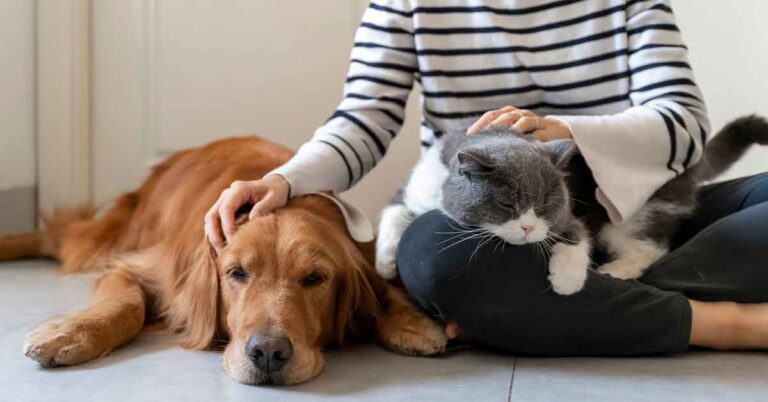 Have you ever considered the impact a pet might have on your HVAC unit? Odds are that you have a pet or two running around your place. In the state of New York, 27% of homes have dogs and 21% have cats. Some overlap does exist but in total, around half of every household in NY has a pet. In fact, 67% of all American households own at least one kind of pet. What does this mean for your home and your AC or heating? Pets can shed their fur and dander, bring in allergens from the outdoors, and have an effect on indoor air quality. So, there are a few things to consider that will help to improve the efficiency and lifespan of your HVAC when there are pets around.
Between fur, dander, and other allergens; pets in your home can lead to decreases in indoor air quality. But that fur can also make its way into your vents and air ducts. One of the best ways to combat this is to regularly groom and bathe your pets.
This can be as simple as making sure to brush your dog or cat. Regular brushing will reduce the amount of loose hair and fur shed in your home which could ultimately wind up clogging vents and filters. Bathing could be a bit more of an issue. According to the blog Molekule, "there is some evidence that regular bathing (once a week) reduces the amount of dander a pet gives off, especially dogs." Of course, trying to wash your dog every week might be a hassle. In that case, dry shampoos and allergen-reducing wipes could help.
Making sure to vacuum on a regular schedule will help you decrease the amount of dirt, dander, and fur that your pets could be leaving around your home. The buildup of these can lead to potential breathing problems for anyone with allergies, but also can keep your ducts and furnace from trapping this debris. According to the writers at Michael T's Motel, "vacuuming your carpets and upholstery is a great way of keeping your furnace and rest of your home hair-free, since these are the places where pet hair is most likely to accumulate."
A common energy-saving tip we tell our customers is to regularly clean and change air filters. The Energy Star Program suggest that you inspect, clean, and change air filters monthly. Following this guideline will also keep your filters from building up dirt, dust, allergens, and pet dander – as well as improving energy costs and prolonging the life of your equipment. Replacing filters frequently during their usage season is important but we suggest at least once or twice a year at minimum. If you have permanent plastic filters, make sure to check the manufacturer's instructions for cleaning.
Get in the habit of wiping down your air vents when you do your vacuuming. Air vents can get gummed up with dirt, dust, hair, and fur. If you have a breed of dog prone to heavy shedding, making sure that your air vents are clear can go a long way to ensuring your AC, central air, and heating system are performing their best.
Have Your Air Ducts Cleaned
Over time, pet hair, and dander can build up inside of your air ducts which can cause your system to be less efficient and affect air quality. If your vents and filters are clogged with pet fur, then your air ducts could be as well. A quick visual inspection of your ducts can give you an idea as to if, and when, your ducts may need a cleaning. The National Air Duct Cleaners Association recommends having your air ducts inspected at least once a year. At Tragar, we offer air duct cleaning services as well so if you think your air ducts could be impacted by pet fur, dander, or any other possible debris, we can help.
While all HVAC systems include a form of filter to capture dirt, dust, and debris; an air purification system will get rid of bacteria, mold spores, and viruses as well. If you have an indoor/outdoor cat or your dog likes to run around the yard for hours and go one walks, then they could be bringing in outdoor contagions. If you have family members with asthma, respiratory issues, or bad allergies then you may want to consider a Whole-house HEPA filter.
Schedule Regular Maintenance
Whether or not your home has pets, our experts recommend annual heating tune-ups and fall maintenance of AC systems for all customers. Scheduling regular maintenance visits ensures your system stays clean and running properly.
Tragar has You and Your Pets Covered
Having pets shouldn't cause you headaches with your home heating and cooling. To get started with a new HVAC system for your home or to schedule maintenance on your system, turn to the experts at Tragar Home Services. For more information, contact us today.