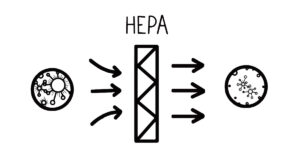 HVAC Air Quality & Safety
While indoor air quality has been an increasing concern for some time, the coronavirus outbreak is bringing even more attention to the topic. Fortunately, technology is providing more options to ensure better air quality and less germ transmission.
Can Your HVAC Air Filter Kill Germs?
Depending upon your HVAC system, yes. Our Lennox HVAC line includes a number of options to improve air quality. Some methods are designed to kill germs, some of which are hospital grade.
All warm air systems use filters to screen dust and other impurities. At their most basic, the filters help your furnace run better and last longer. Without an air filter, the dust and debris can damage the coils, blower motor, and other core components. If you have central air, good air filters are even more essential (as is regular duct cleaning) since the heat blows through vents rather than heating baseboards or radiators.
What Is a HEPA Filter?
HEPA stands for High Efficiency Particulate Air. HEPA filters use thick, pleated material to remove more than 99 percent of airborne particulates less than 0.3 microns in size. By filtering out particles of that size or greater, HEPA filters block a variety of microorganisms, including mold spores, viruses and bacteria.
One option from Lennox uses the Healthy Climate® HEPA system. It uses a three-step filtration process for hospital-grade results. First, the prefilter catches the large dust and dirt particles. Then, the HEPA filter captures germs and the remaining particles. Lastly, the charcoal filter removes chemical vapor and odor from the air.
Can a HEPA Filter Kill Coronavirus?
Coronavirus is technically a family of viruses. The outbreak currently sweeping the world is from a novel coronavirus called COVID-19. While HEPA filters can help with some strains of coronavirus, as of this writing it's too soon to tell if it is blocked by HEPA filters.
Does UV Light Kill Bacteria/Germs?
Yes, ultraviolet or UV germicidal lights can destroy microorganisms and contaminants like bacteria, fungus, mold, and mildew by damaging their structure. That hinders their ability to grow and spread. Healthy Climate® HEPA systems can include UV germicidal lights. Even better, Healthy Climate® germicidal lights do not produce ozone like some systems do.
If your family is prone to asthma, allergies, or respiratory problems, an HVAC system with a HEPA filter and UV germicidal lights can provide much needed relief of symptoms by eliminating or minimizing particulates that trigger your condition. It can also provide additional peace of mind in regard to viruses and bacteria. HEPA filters in combination with a UV light will provide the best protection available against airborne viruses and bacteria.
Talk to Tragar About the Air Filtration
If you want to improve the air quality in your home, talk to Tragar about a whole house air filtration system and/or an HVAC upgrade that includes the Lennox air purification/filtration options mentioned above. To learn more, call (516) 221-2559 or fill out our contact form .